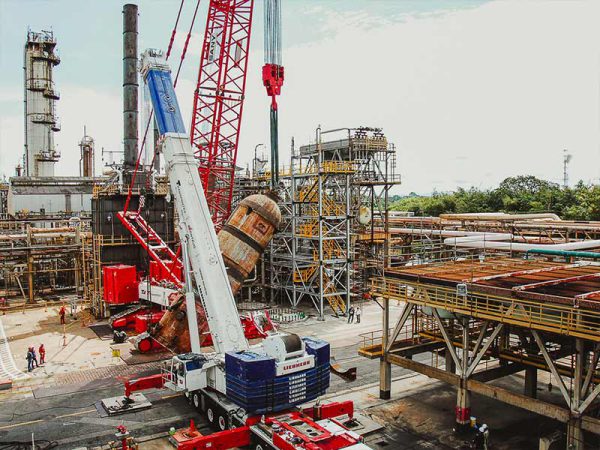 We have a modern and highly qualified lifting equipment with cranes from 10 tons to 800 tons that allow us to guarantee all the operation options to our customers.
Cranes, gantries, strand jacks, hydraulic systems and various accessories make up the lifting portfolio of Transportes Montejo, which operated by the right team and the experience of over 60 years, ensures the execution of operations with the seal of confidence, support with studies and engineering calculations, safety and experience for our customers and partners.
Our crane service includes: Telescopic crane, platform cranes, load lifting, load boards, crane service in Bogota and throughout Colombia.
OVERWEIGHT AND EXTRA HEAVY DUTY TRANSPORT
Specialists in the transportation of special, indivisible, oversized and extra-heavy pieces in Colombia and the world. We guarantee and protect the safety of your cargo and the road infrastructure through which we transit.
We do enough planning and engineering to propose all possible solutions and alternate routes for your cargo to reach its final destination. We make route studies, request special permits, improve the necessary infrastructure, make use of metallic over bridges and create or improve new roads, according to the complexity of your logistic project.
Self-propelled modular equipment (SPMT-E), extendable low beds, modular multi-line equipment, low beds, high beds, and other conventional transport equipment are part of our available fleet. All equipment is operated by certified and specialized personnel guaranteeing the success and safety of the operations.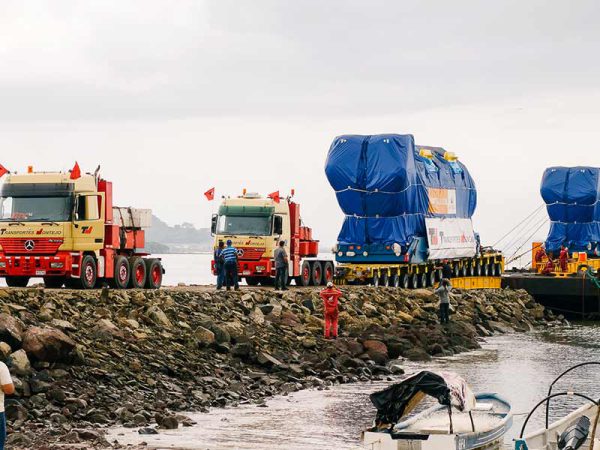 We count with the experience to make a complex articulation between different modes and types of transport in order to perform fast and efficient transshipment operations of special pieces, materials and common merchandise. We use different types of vehicles, capacity and high technology equipment to carry the cargo from its origin to its final destination, optimizing logistics costs, transportation and avoiding critical and dangerous routes to provide security to the cargo.
In our arduous trajectory we have developed important allies in fluvial, air, land transport and port sector. This allow us to provide our clients agility in the different processes, procedures and permits for the mobilization of a cargo. Our Special transport company commitment is to ensure that your project does not slow down and is made as profitable and efficient as it was planned.
SPECIAL TRANSPORT SERVICES
Special studies that integrate technical aspects, operations, permits, route structure, time evaluation and feasibility studies, are part of Transportes Montejo's Special transport services portfolio.
We offer complete solutions, articulating different modes of transport in order to provide faster, efficient and profitable operations to our customers. It seeks to satisfy not only the demands of the customer, but the market, imposing globalization and where safety, profitability and use of technologies are key in the execution.