Transportes Montejo is a company specialised in Logistics and executions of projects that Involve extra heavy and/or extra dimensioned cargo lifting and transport services in Latin and central America. Our services are managed and operated by highly trained personnel, and all are previously studied and supported by technical calculations .
In its more than 60 years of experience, TRANSPORTES MONTEJO has become the national leader in special automotive ground transportation, characterized by its excellence in service and its state-of-the-art equipment that seeks to satisfy the needs of the market. We are experts in land and multimodal transportation. Likewise, it is the only South American company that has worked in Europe and has received global recognition: 21st place according to Cranes and Lifting magazine of the best heavy transport companies.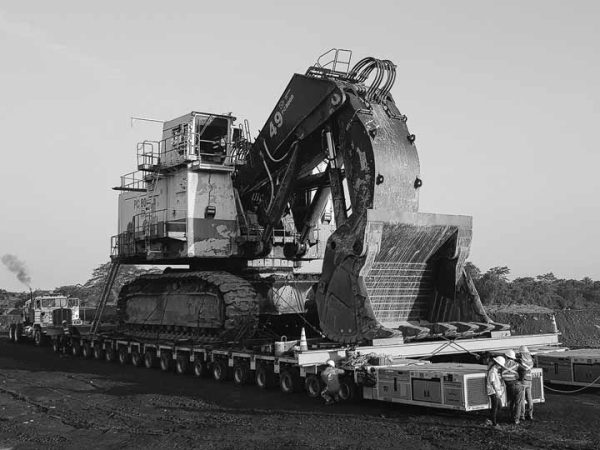 The company's history dates back to 1953 when Hernán Montejo, who lived in Duitama (Boyacá), combined his knowledge of transportation with his entrepreneurial spirit to start Transportes Montejo with his wife Melba Riaño de Montejo, who took over the accounting and administrative management of the company. Moving cargo from the region of different weights and dimensions and to different destinations, he started one of the 21 best Heavy Transport companies in the world as reviewed by the International Cranes and Specialized Transport Magazine in its annual Transport 50 2013 editions.
Each mobilized ton was experience capitalized in the beginning, the discipline and vision to mobilize oversized and extra-heavy cargo generated growth and recognition in the sector and the trust of its customers. Faced with the great challenge and driven by his expertise, creativity and entrepreneurship inherited from his parents, Fernando Montejo Riaño joins the company from an early age, injecting constant renovation and planning each operation individually, managing to develop specialized transportation solutions tailored to the needs of its customers.
Fernando Montejo's aspirations grew along with the amount of tons transported, in addition to bringing new approaches and technologies to the company, he also experimented new ways of moving equipment and expanding the company's portfolio to what today are its service lines: Logistics, Lifting, Specialized Transportation, Multimodal Transportation, Engineering and Equipment Rental. As a result of its dedication and passion for transportation, Transportes Montejo is recognized as one of the best Heavy Transport companies. Its strong commitment to safe operations, quality service, respect for the customer, and the decision and conviction to make this company a solid and financially viable one, have earned it recognition for its management, work and dedication.
Today, more than 6 decades later, Transportes Montejo pays tribute to its beginnings by operating under parameters of excellence, expanding every day its operation scenarios, challenging the parameters of difficult to handle loads and showing the world the art of handling oversized and extra-heavy cargo logistics.